THE Q AT VASSAR
Nestled in one of Albuquerque's most upscale neighborhoods, amidst quiet, single- family homes, The Q at Vassar North features well-crafted, spacious, elegant 2- and 3- bedroom apartments. Offering a serene lifestyle, yet just minutes away from all the city has to offer, The Q at Vassar North brings you but a few steps away from University of New Mexico amenities, such as the golf course and its medical and law school campuses, Whole Foods, The Tennis Club of Albuquerque, and Netherwood Park.
Each fully renovated apartment features brand new stainless steel and energy efficient appliances, high-end finishes, a private front porch or balcony, complimentary assigned parking, and much more.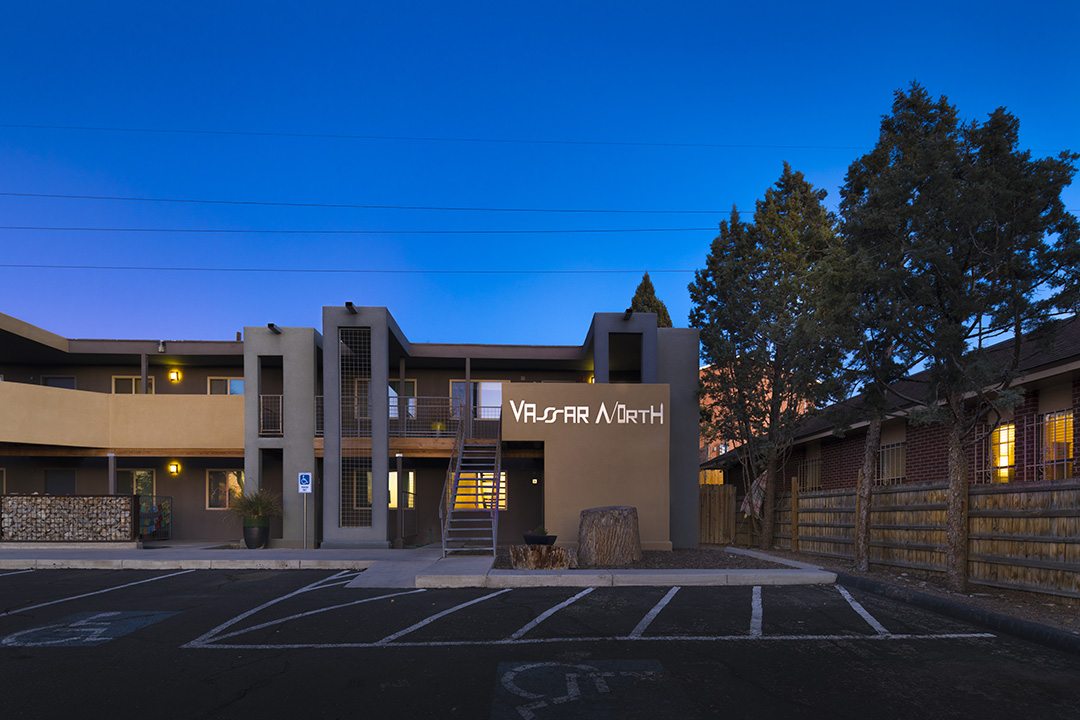 Each home includes a full washer/dryer. Unlike many apartment complexes, the design of The Q at Vassar North includes luxuries meant to be enjoyed with friends, like the BBQ alcove, outdoor terrace, access to a heated pool, and a yoga studio in the Q's neighboring campuses.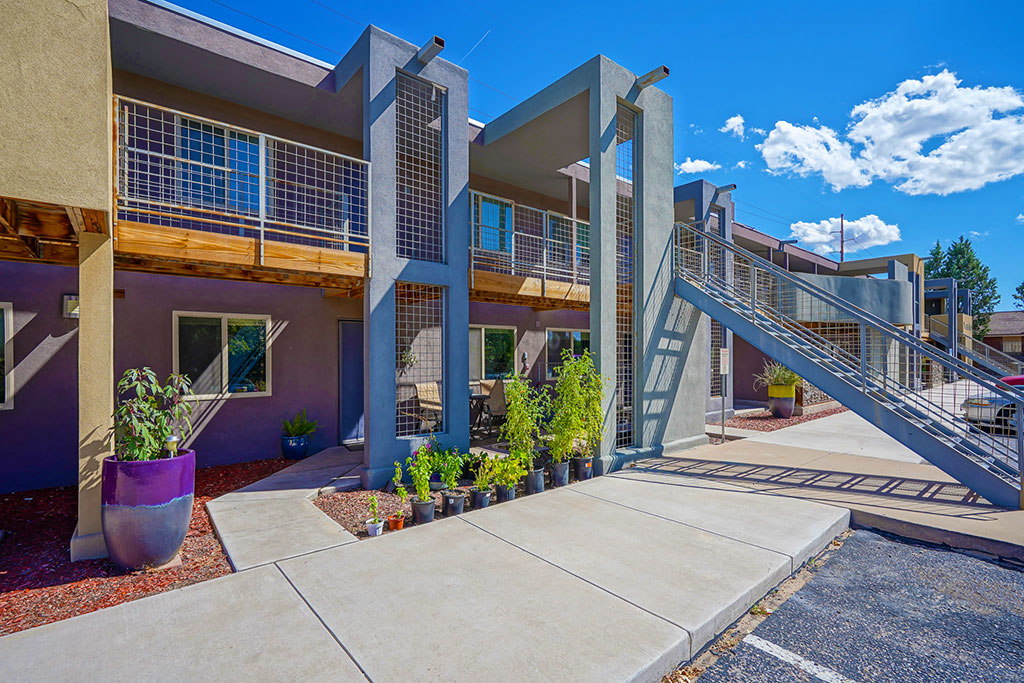 Combined with the piece-of- mind provided by the complex's gated entrance and distinguished management team, this community is the perfect blend of tranquility, privacy, and social opportunity. For young families or sophisticated young adults, The Q at Vassar North is an ideal place to call home. Schedule a tour today and start exploring your new neighborhood with us.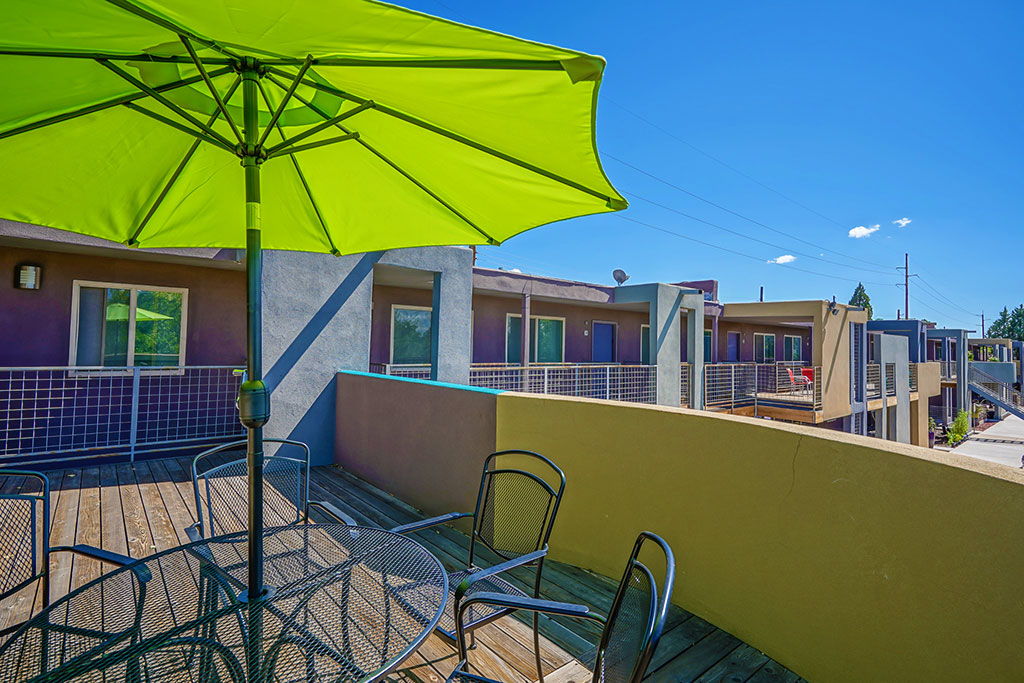 FEATURES & AMENITIES
Complimentary high speed internet (Comcast)
Complimentary basic cable (Comcast)
Complimentary wi-fi (Comcast)
Gym
Gated community
BBQ grill & picnic area
Lawn
Sundeck
Dog Run
Heated pool**
Access to yoga studio**
PARKING
Assigned parking
Additional parking available
NEARBY SHOPPING, DINING, & ENTERTAINMENT
Minutes to Nob Hill
Minutes to Downtown
Minutes to Old Town Plaza & museums
Minutes to microbreweries
Short walk to Whole Foods
SERVICES IN THE NEIGHBORHOOD
UNM Hospital
Presbyterian Main Hospital
UNM campus
CNM campus
Quick I-25 freeway access
Quick I-40 freeway access
FITNESS / RECREATION IN THE NEIGHBORHOOD
Bike & hike trails
Public parks & tennis courts
Health clubs nearby
Yoga studios nearby
UNM Golf Course
Tennis Club of Albuquerque
bike Score 79
LIVING SPACE
Stain concrete flooring*
Hardwood Flooring*
Refrigerated Air
Ceilling fans
Washer / dryer
Computer alcove
Patios & balconies*
KITCHEN
Dishwasher
Electric range
Microwave
PET POLICY
Cats allowed
Dogs allowed
*In selected units
**In a neighboring sister Q community
TESTIMONIALS
"Just moved in and so far have had an incredible experience with Rachel in the office. She has continued to keep communication and responds whenever I need her. She even retrieved some boxes from my front door and kept them safe in the office! The apartment is slightly smaller than expected (unable to tour in person due to COVID), but the appliances are in great order, it's in good condition and I don't have to worry about getting my own utilities as the Q takes care of that. Very convenient move in process - even in COVID times. Grateful for an efficient moving experience."
"Such a great spot to live. I was in such a rush to get a place and Rachel in the office was wonderful. Both her and the management company are always texting info and communicating. I am so Appreciative to have found the Q, and feel very Lucky. Everything is so nice and I love having this kitchen. Neighbors are great and it's a very safe place to be in Albuquerque. I strongly recommend it."
"Three weeks in and I am very pleased with all things. Quiet, comfortable setting. 'Modern' apartments with attention to detail. Rachel & Co. have been consistently very attentive; service with a smile."
"The owners' artistic vision comes through in the contemporary colors, decor and materials of the property."
"Attention to community and lifestyle amenities such as a dog run, free cable and wifi, community garden, shared gas BBQ grill, gated security, laundry, patios and balconies lend itself to a gracious environment to come home to."
LOCATION GALLERY
Click on any image to start slideshow.