Cycling is one of Albuquerque's most popular activities, and no matter what Q property you live at, you're always just steps away from one of Albuquerque's many bike paths. Biking provides not only great exercise for people of all ages, it's an enjoyable and environmentally friendly means of transportation or a great way to just enjoy our area's beautiful outdoor surroundings.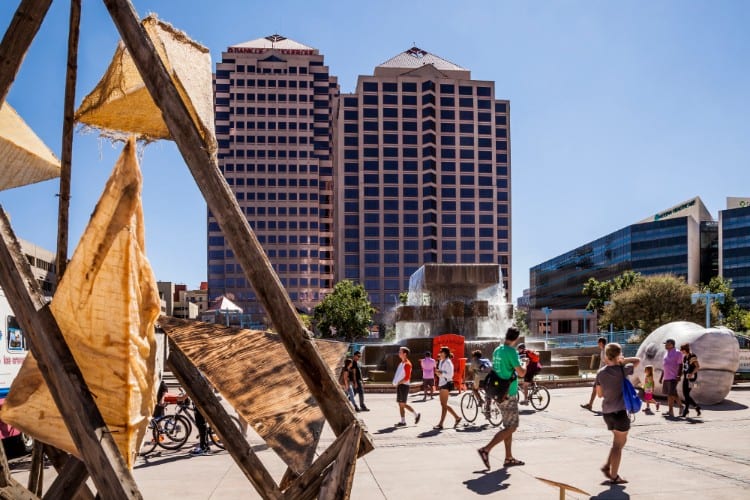 Leisurely biking in and around the city also provides the opportunity to really see the surroundings up close and personal, while taking life at a slower pace. Off-road biking allows avid riders to challenge their abilities by taking on more rugged terrain.
However, bikers can also enjoy getting out and around on Albuquerque's many well-established bike trails. The city of Albuquerque website provides a trail directory featuring trail guides for a dozen bike routes in and around town. Individual trail guides are available as PDF documents that can be downloaded from the website. Several guides include abbreviated versions that focus on the route, along with full trail guides that include colorful descriptions of sights, sounds, and significant landmarks.
Each trail guide includes detailed riding directions and feature descriptions of historical landmarks and other highlights, such as the Laminated Wood Overpass on the Paseo de las Montanas trail and the Coronado State Monument on the Bicycle Boulevard trail, which includes Central Avenue in Nob Hill. The guides are authored by local residents who ride and walk the trails themselves. Side trips for adventurous riders willing to venture off the trail are included in many trail guides.
Biking along one or several of Albuquerque's numerous bike trails, including the Bicycle Boulevard trail, represents just one of many nearby amenities for residents at any of The Q properties. Check out our website, or give us a call, to learn more about all The Q properties have to offer.